BAOLI HDR rubber bearing is composed of alternating laminations rubber layers and vulcanized steel plates (shims),  bonded together to provide vertical rigidity and horizontal elasticity.
The vertical stiffness ensures that the isolator will support the weight of the structure, while the horizontal flexibility translates the destructive horizontal vibration into a gentle motion.
Since the steel plates are completely embedded in the elastic material, they are sealed and thus prevent corrosion.  The devices are manufactured with rubber vulcanized to the top and bottom connection plates. The bearings can also be supplied with additional anchor plates, allowing easier replacement of device in case of maintenance needs.
 Design principle
The working principle of BAOLI high damping rubber bearing is the isolation of the base and the transfer of energy from the ground to the structure during an earthquake. Rubber and steel laminate supports are designed to support the weight of the structure and provide flexibility after yielding. After the earthquake, the rubber provides isolation and re-centring of the bearings, while reaching higher damping of up to 16%.
Types
Fixed type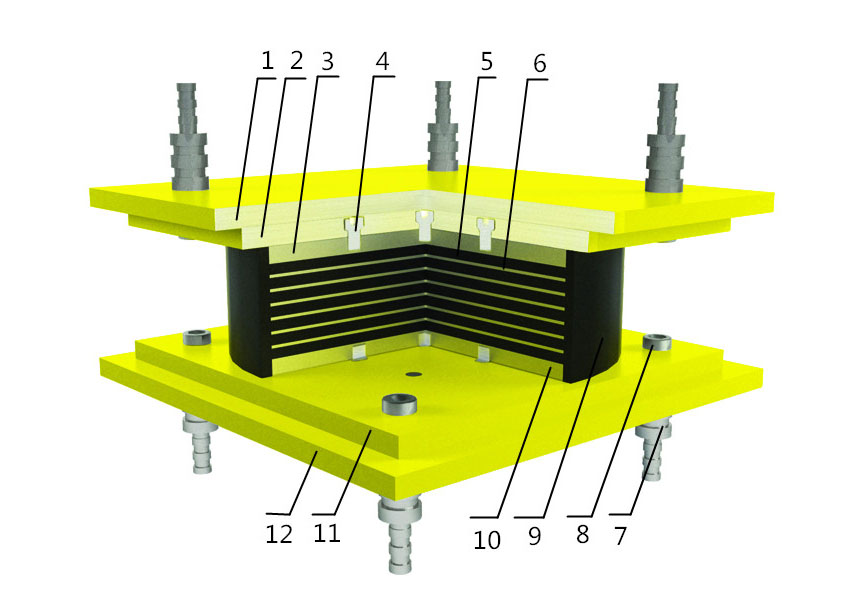 1-top anchor plate ; 2-top steel plate; 3-top connection plate; 4-screw; 5-elastomer; 6-reinforced steel plate; 7-sleeve; 8-anchor bolt; 9-rubber cover; 10-bottom connection plate; 11-bottom steel plate; 12-bottom anchor plate.
---
Free type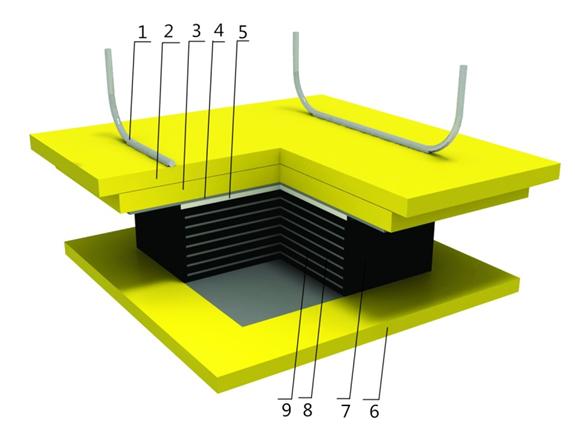 1-anchor bar; 2-top anchor plate ; 3-top steel plate; 4-stainless steel plate; 5-PTFE or UHMWPE; 6-bottom steel plate; 7-rubber cover; 8-reinforced steel plate; 9-elastomer.
---
Material
elastomer
The elastomeric used in the manufacturing of lead rubber bearing should be specified in the project documentation as either natural rubber (NR) or chloroprene rubber (CR) as the raw polymer.
Physical and mechanical propertied of elastomer
Characteristics
Requirements
Test Methods
G Modulus  (MPa)
0.7
0.9a
1.15
ISO
Equivalent national  standard
Tensile Strength (MPa)

Molded Test Piece

Test Piece from Bearing

Minimum elongation at break(%)

Molded Test Piece

Test Piece from Bearing

≥16

≥14

450

400

≥16

≥14

425

375

≥16

≥14

300

250

ISO 37

type2

GB/T

528-1998(Type 2)

Minimum Tear Resistance(KN/m)

CR

NR

≥7

≥5

≥10

≥8

≥12

≥10

ISO 34-1

Trouser

(Method A)

GB/T 529-1999

(Pants type)

Compression Set(%)

24h; 72℃

CR ≤15

NR≤30

ISO 815

φ29×12.5mm,

Spacer: 9.38mm,-25%

GB/T

7759-1996

Accelerated Ageing

(Maximum change from unaged value)

-Hardness(IRHD)

NR  7 d , 70℃

CR  3 d, 100℃

-Tensile strength(%)

NR  7 d , 70℃

CR  3 d, 100℃

-Elongation at break(%)

NR  7d , 70℃

CR  3d, 100℃

-5+10

±5

±15

±15

±25

±25

ISO 48

ISO 188

GB/T

6031-1998

GB/T

3512-2001

Ozone Resistance

Elongation: 30% – 96h

40℃±2℃

NR 25pphm

CR 100pphm

No cracks
ISO 1431-1
GB/T 7762-2003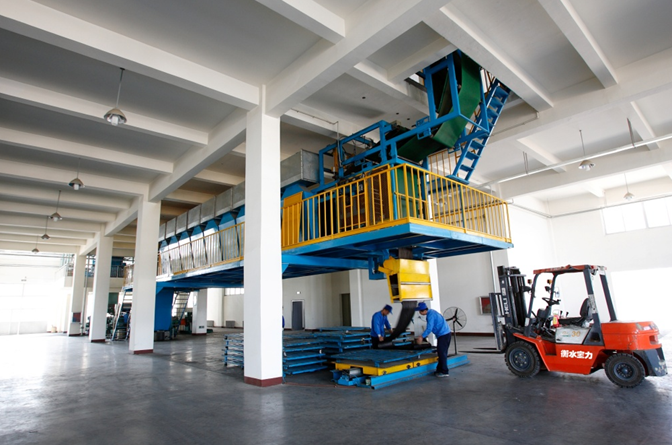 Automatic milling rubber production line
Steel plates
Reinforcing plates, the top and bottom steel plates, connection plates are made from rolled carbon steel conforming to EN10025, EN10083, and EN10088/SHTOA36 or A570.
Anchor system
BAOLI LRB are equipped with anchor plates to facilitate the connection to the lower and upper concrete structures. Alternatively, the bearing can be prepare for connection to steel structures.
Applicable standards
European Standard: EN 15129;
American Standard: AASHTO;
Other standards, according to customized requirement.
Quality control at BAOLI
Refer to Lead rubber bearing
Application
BAOLI LRB used in bridges, highways, building and other constructions.
Advantage
Quality assurance: Quality control from raw material to finished product.
On time delivery "No waiting around".
Cost saving options "Getting you the best price".
Small quantity acceptable "Every piece is valuable to us".
Professional packing plan to save cost for customers, customers won't suffer any problem.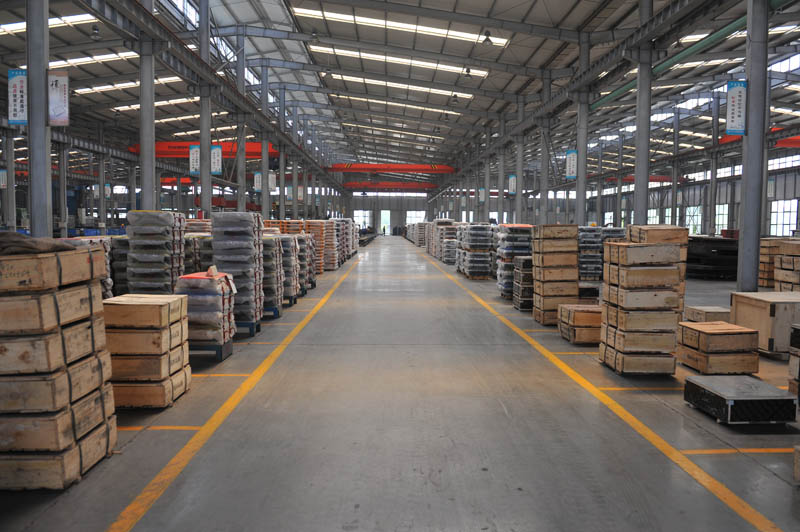 wooden case with PE films and pearl cotton(as per customer's need)
QUOTES
The follow detailed are necessary to provide you with a quote:
If the size has already been ascertained:
-Max. bearing dimension : length, wide, thickness
-Material quality: CR/ NR
Otherwise, please provide us with the follow information, so that we can calculate and provide your desired lead rubber bearing:
-Vertical load: (maximum and minimum)
-Displacement
-Bearing rotation
-Bearing shape: (round or rectangular)
-Contact surface(steel or concrect)
-Maximum dimensions(when space for bearing is limited)
Quotes are processed immediately and delivered promptly.