ELASTOMERIC BEARINGS
BAOLI Elastomeric Bearings are designed for bridge and building construction. Elastomeric Bearings are commonly used for steel beams, pre-cast concrete beams and other support points. BAOLI Elastomeric Bearings are made of highest-quality neoprene, nature rubber or EPDM rubber. The rubber was laminated by one layer or several layers thin steel plates(as per design requirement), in this way, the bearings can bear bigger vertical load.
DESIGN PRINCIPLES
An elastomeric bearing with horizontal reinforcement layers made of construction steel which prevents the spreading of the elastomer under vertical loading, meanwhile, allowing horizontal displacements and angular rotations.
Steel and elastomer are combined in a vulcanization process, and have shear and pressure resistant.
Elastomeric bearing, also known as block bearings or rubber pads, are especially suitable for small and medium loading, displacement and rotation.

They are low in cost, have a long working-life, are easy to install.
TYPES OF ELASTOMERIC BEARINGS
Type A: Laminated bearing fully covered with elastomer comprising only one steel reinforcing plate.

Type B: Laminated bearing fully covers with elastomer comprising at least two steel reinforcing plates.


Type C: Laminated bearing with outer steel plates (profiled or allowing fixed)

Type D: Type B with PTFE sheet bonded to the elastomer.


Type E: Type C with one outer plate bonded to the elastomer and PTFE sheet recessed in the steel.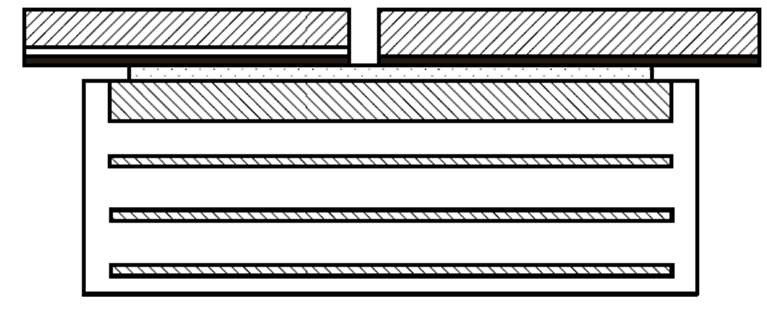 Type F: Plain pad bearing and strip bearings.
STANDARD

-BAOLI elastomeric bearing described in this document conform with the European standard  EN 1337-3 and has successfully passed all tests required for CE certification was awarded by KIT MPA GERMANY;

In addition to CE standard, We also design and fabricate as per other standards and specifications, as follow:

-American Standard: AASHTO M251-06(2011) Plain and laminated elastomeric bridge bearings;

-British standard: BS 5400-9.1, BS 5400-9.2;

-Australian standard: AS5100 part 4,  section 12.

 

RAW MATERIAL AND CHARACTERISTICS

The elastomer used in the manufacturing of the elastomeric bearing should be specified in the project documentation as either natural rubber (NR) or chloroprene rubber (CR) as the raw polymer. Blending with up to 5% of another polymer, which may be added to aid processing, is permitted.
No reclaimed or ground vulcanized rubber shall be used.

●A combination, with an NR core and CR external the individual advantage of both materials the higher chemical resistance of CR, and the higher mechanical resistance/better deformation properties of NR.

Physical and mechanical properties of elastomer


Characteristics
Requirements
Test Methods
G Modulus  (MPa)
0.7
0.9a
1.15
ISO
Equivalent national  standard
Tensile Strength (MPa)

Molded Test Piece

Test Piece from Bearing

Minimum elongation at break(%)

Molded Test Piece

Test Piece from Bearing

≥16

≥14

450

400

≥16

≥14

425

375

≥16

≥14

300

250

ISO 37

type2

GB/T

528-1998(Type 2)

Minimum Tear Resistance(KN/m)

CR

NR

≥7

≥5

≥10

≥8

≥12

≥10

ISO 34-1

Trouser

(Method A)

GB/T 529-1999

(Pants type)

Compression Set(%)

24h; 72℃

CR ≤15

NR≤30

ISO 815

φ29×12.5mm,

Spacer: 9.38mm,-25%

GB/T

7759-1996

Accelerated Ageing

(Maximum change from unaged value)

-Hardness(IRHD)

NR  7 d , 70℃

CR  3 d, 100℃

-Tensile strength(%)

NR  7 d , 70℃

CR  3 d, 100℃

-Elongation at break(%)

NR  7d , 70℃

CR  3d, 100℃

-5+10

±5

±15

±15

±25

±25

ISO 48

ISO 188

GB/T

6031-1998

GB/T

3512-2001

Ozone Resistance

Elongation: 30% – 96h

40℃±2℃

NR 25pphm

CR 100pphm

No cracks
ISO 1431-1
GB/T 7762-2003

inner plates
 The inner reinforcing plated is steel grate S235 or A36 ( equal to Q235 ),  the minimum thickness is at least 2mm.
 Outer plates: (for types C).
The  Outer reinforcing plates shall be grade S 235.For elastomeric bearing type C with internal layers less than or equal to 8 mm thick, the minimum thickness of the outer plates shall be 15mm.

For thicker layers, the minimum thickness of the outer plates shall be 18 mm.

Top sliding surface of bearings-PTFE

Thickness of  PTFE sheet: 1.5mm <tp < 2.5mm

Thickness of elastomer under  the PTFE : Max: 3mm, Min: 0.5mm(at any point)

QUALITY CONTROL

-Baoli elastomeric bearing are CE certified according to EN1337-3, also regularly monitored in accordance with regulations by MPA Stuttgart, Germany. Baoli elastomeric bearings have been tried and tested under demanding traffic conditions and have a long life-span. They have been used successfully around the world for more than 25 years.

-External quality complies with the regulations of the European standard EN1337.

-Professional inspector and a full set of testing equipments including shear tester, ozone resistance tester, aging tester, etc.
Production Line
-Quality personnel, up-to-date production lines and testing laboratories, and quality control at every stage of the manufacturing process all help guarantee the high quality of  baoli products.
The advanced facilities ensure the formulations  for synthesizing rubber compound are uniform and automatic for each elastomer fabrication.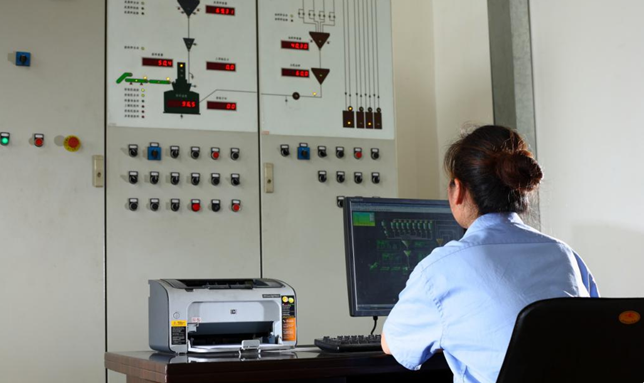 Main control room  (operating on automatic batch weighing and rubber mixing mill on temperature, number of revolutions, rubber mixing time)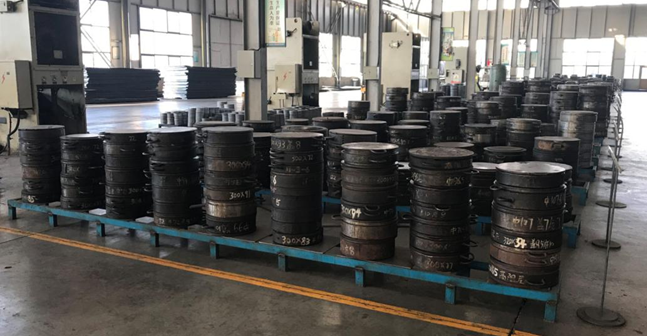 Over 1000 different sized moulds at stock
The moulds of  Baoli stocks are more than enough to meet the most common sized bearing,  for uncommon sizes, we can design and fabricate moulds as per the size of elastomeric bearing and customer's requirement.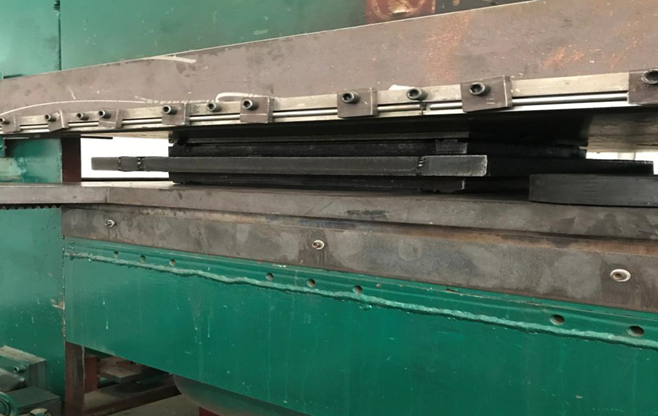 Good qualified vulcanized process (more than 100 sets vulcanized machines)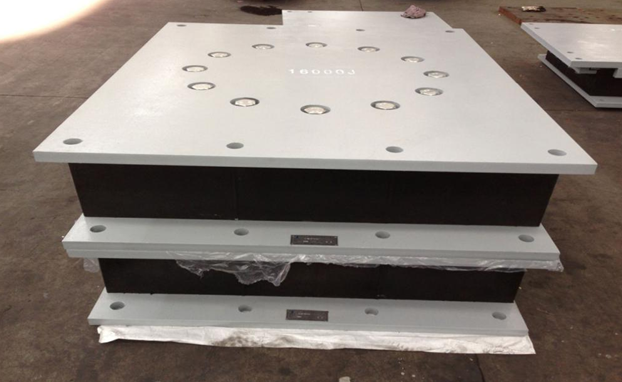 Elastomeric laminated bearing with outer steel plates(Type C)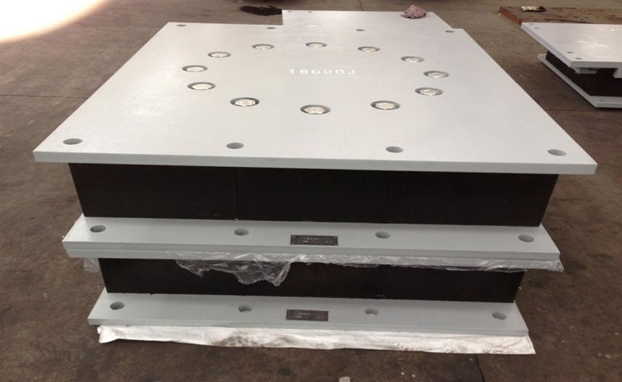 Finished elastomeric bearings(Type B, Type D)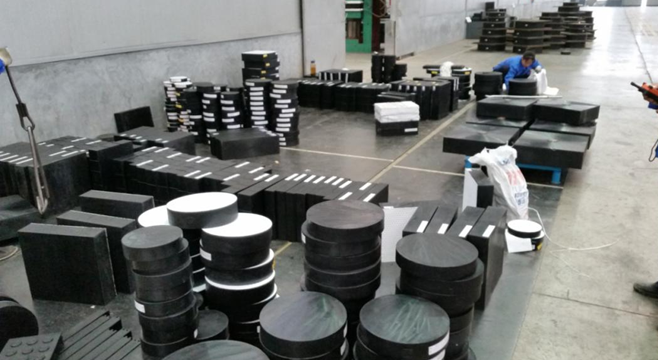 Application
Elastomeric bearing is suitable for the bridge with span less than 30m and small displacement. Different plane shapes are suitable for different span structures: orthogonal bridge applies to rectangular bearings; curved bridge, skew bridge and cylinder pier bridge applies to circular bearings.
PTFE rubber bearing is suitable for bridge-displacement bridge with big span, continuous multi-span and simply supported beam continuous plate. It also can be used as the sliding block in continuous beam pushing and T-shaped beam shift. The application of rectangular and circular PTFE rubber bearing is the same as the rectangular and circular common rubber bearing.
INSTALLATION
Elastomeric rubber bearing without PTFE

PTFE Elastomeric rubber bearing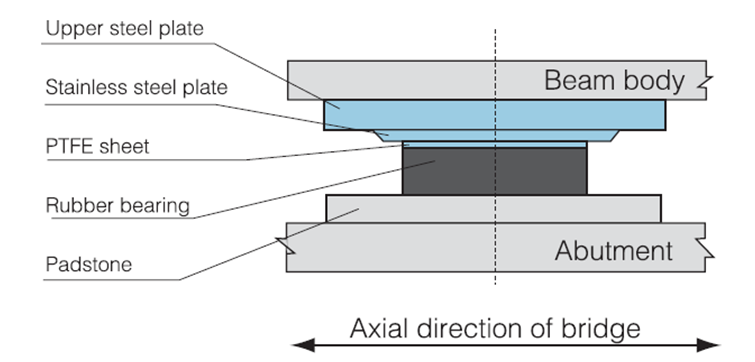 Advantage
CE marked products.
Quality assurance: Quality control from raw material to finished product.
On time delivery "No waiting around".
Cost saving options "Getting you the best price".
Small quantity acceptable "Every piece is valuable to us".
Professional packing plan to save cost for customers, customers won't suffer any problem.
Package
QUOTES
The follow detailed are necessary to provide you with a quote:
If the size has already been ascertained:
-Max. bearing dimension : length, wide, thickness
-Desired bearing type: A,B,C,D,E
-Material quality: CR/ NR, or EPDM.
Otherwise, please provide us with the follow information, so that we can calculate and provide your desired elastomeric bearing:
-Vertical loads (maximum, minimum)
-Displacement
-Bearing rotation
-Bearing shape(round or rectangular)
-Contact surface(steel or concrect)
-Maximum dimensions(when space for bearing is limited)
Quotes are processed immediately and delivered promptly.